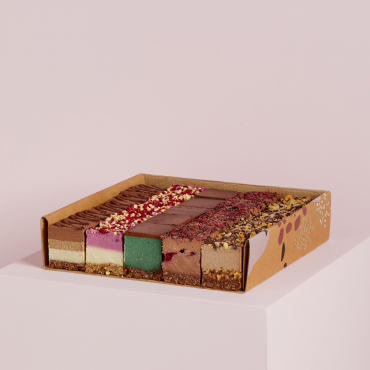 Hannah was only 21 years old when she started her entrepreneurial journey in the Bay of Plenty with Real Rad Food. She had been inspired by her part-time role at a café whilst studying geography at the University of Auckland. Hannah's Instagram page was filled with drool-worthy yet nourishing food when she decided to pursue her 'side hustle' at 6K Instagram followers. Since then, she has found great success through competitive advantage offering of her slices, balls and other products.
These treats were made with real food; food that anyone can enjoy regardless of their dietary requirements*. The societal movement towards nutrient-rich and good-for-your body food aligns with Real Rad Food's mission. Her products are always plant-based, gluten-free, refined sugar-free, dairy-free, and soy-free*.
As food trends develop, and dietary requirements become more embedded in modern society, the popularity of her business has lead her, and her team of five, to provide "rad" food to over 80 cafés and grocers around New Zealand from her custom-built factory in Papamoa. As the reputation and demand of the food grow, as does the product list. Current products include protein powder, rad balls, slices and DIY rad ball mixes.
The local WBOP business community greatly supported Hannah, leading her towards her current business success. Hannah states that the Bay of Plenty was a nurturing area for her to set up her business. She explains how she feels the lower rent prices, slower pace, and the great network of small businesses were a blessing to her progress.
In the early stages of her venture, she based herself in a shared working space which was beneficial to grow her support network of other young business owners. Hannah faced some barriers in her early stages because she felt she had not had any real-life business experience; the process seemed daunting. Her connections in Tauranga Moana offered insightful advice and supported her to learn quickly. An example of this was the SODA's LIFT Programme. This start-up program allocated a mentor to Hannah who provides ongoing support for her business ventures.
Hannah has featured in podcasts such as Ace The Gram, UC Women In Business and Pep Talk, to showcase how her 'side hustle' project flourished into an official and successful brand with a humble 37.9K followers on Instagram. To see more about Hannah's Journey and Real Rad Food, click here.
*Real Rad Food uses tree nuts and peanuts some products.