Shift Hub
Rethink your commute
Nearly 90% of journeys to work in Tauranga are by private motor vehicle, we have reimagined how we consider alternative transport modes, acknowledging it isn't a one size fits all approach.
The Shift Hub, which was open in Tauranga's City Centre throughout the month of July, reshaped the way we approach alternative transport modes in Tauranga and the Western Bay of Plenty, offering an immersive experience that allowed individuals and teams to rethink their commuting choices and encouraging commuters to shift, their way, through education and test rides of available options!
In collaboration with 15 incredible partners, the Shift Hub was supported by local businesses and the wider community, resulting in:
Over 85 organisations registered to be part of the Shift Hub experience.
Over 1000 people booked to visit the space over 19 working days throughout the month of July.
629 individuals booked into one-hour educational sessions.
Hosting of three key events in the Shift Hub space, exposing an additional 300 plus people to the Shift Hub.
100s of test rides of electric bikes, e-scooters, Limes scooters and electric motorbikes.
The Shift Hub space revitalised an inner-city empty space, soon to be transformed into the University of Waikato's Recreation Centre.
Valuable data being collected which will be used to inform and champion for the alternative transport options and infrastructure needs to support mode shift across the region.
The Shift Hub project presented an interactive and engaging showcase which unveiled the alternative transportation options we can choose to reduce the transport emissions, congestion, and productivity impacts we face due to our reliance on private motor vehicles across the region. Visitors had the opportunity to explore alternative transport modes, from e-bikes, e-motorbikes, and public transport (bus) to car-sharing, e-scooters, e-mopeds, e-skateboards, ridesharing, walking, cycling, Locky Dock, and EV chargers, there was an array of options to learn about and test ride. The Shift Hub facilitated a unique chance to reconsider daily commutes and make a shift in one's own way.
The Shift Hub's success was made possible by the collective effort of all involved and we thank everyone who participated in discovering how they can go from brake lights to scenic sights on their daily commute.
#rethinkyourcommute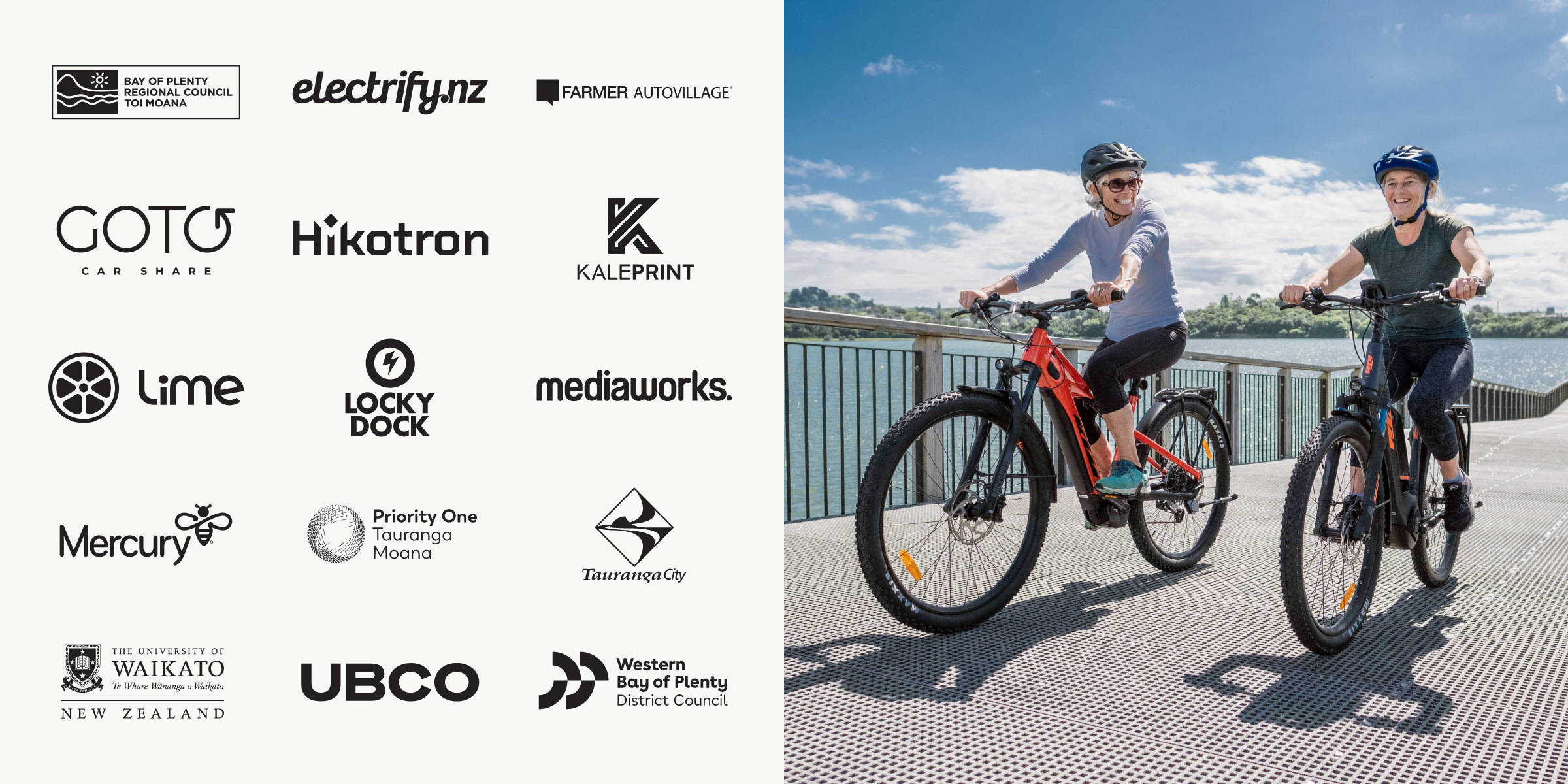 Choose Your Mode
Shift to Alternative Modes
Tauranga is Aotearoa New Zealand's fastest growing city - challenges include congestion, productivity, cost of petrol, emissions.
The Shift hub showcases a range of innovative and sustainable alternatives to the private motor vehicle. Whether you shift part of your trip, or even one day a week, by rethinking your commute, your way, we together can make a difference.
Rideshare
Rideshare options such as Lime scooters and bikes are pay-by-the-minute commute options. Once you've downloaded the app you can see available vehicles in the vicinity, to get you from a to b.
Carpool
Sharing the journey into work with friends or colleagues lowers emissions and congestion through reduced private motor vehicle journeys with a single occupant.
E-motorbikes
E-motorbikes such as our local UBCOs, electric mopeds like Horwin, and traditional mopeds, are a great commuting option for those looking for a fun and fast way into work as they can skip the traffic.
Carshare
Rent by the hour or for longer, carsharing platforms like GoTo Car Share let you discover options for short term hire from a fleet of modern, safe, electric vehicles. Reduce your footprint by leaving your private motor vehicle at home, commuting on an alternative mode and going to your meeting using GoTo Car Share.
Public Transport
The Bayhopper network has 20 bus routes which cover the Western Bay and Tauranga urban area. Busing is a cost-effective option for those looking to test out a new mode for their commute. You can plan your journey using the Transit app, or through baybus.co.nz.
Micro-mobility
Micro-mobility refers to smaller, lower speed vehicles such as e-scooters / e-skateboards. A switch to one of these options for your commute, is a great way to do your bit to help reduce congestion.
Cycling
There is an extensive cycling network available in our region, and both electric and traditional bikes can be used on these routes. Choosing cycling for your commute means you can miss the congestion, get fit and take the scenic route to the office.
Walking
Arguably one of the most accessible alternatives modes of transport, walking won't cost you a thing and integrates some exercise into your daily commute. We have an extensive range of walking routes in the region that could form part of your trip to work.
Local Tools To Help Your Rethink Your Commute
Transit is an app that shows real-time tracking and information relating to the region's Bayhopper and Cityride bus networks. The Transit app is available to help you with your bus travel in Tauranga, providing you with real-time information about bus arrivals at your stop. Download the Transit app to plan your bus journey.

The BayBus website has a journey planner tool to plan your bus travel door to door. Simply type in the start and end points of your journey and you will see a map with the closest bus stops, bus times and journey time.

Google Maps is a useful tool to plot a multi transport mode journey. Plug in your start and end points and Maps will show you door to door your options for public transport, walking and cycling.

Bee Card makes bus travel smarter, easier and cheaper than cash. Bee Card is a pre-paid smartcard used throughout the Bay of Plenty to pay for your journey.

FutureFit lets you discover your impact on the planet with New Zealand's first-ever gamified carbon footprint tool. FutureFit is a fun way to engage with the issues around climate change and take action, such as rethinking your commute, to reduce your carbon footprint. Bay of Plenty Regional Council, Tauranga City Council and Western Bay of Plenty District Council have launched this tool for our community to access.

Locky Docks are helping revolutionise urban mobility and tackle barriers to locking and charging e-bikes throughout the region. With free secure parking, charging and wayfinding, Locky Docks make it easier for people to ride more often. Download the app to find your nearest Locky Dock, then ride, dock, lock and charge your bike at locations currently being rolled out across Tauranga.

Hikotron is coming to Tauranga very soon, aiming to establish New Zealand's largest AC EV charging network. Their mission is to provide EV drivers with the assurance that they can charge their vehicles conveniently at every destination. Additionally, Hikotron offers a locally tailored solution for business installations. Stay informed about the upcoming Hikotron chargers near you by downloading the Hikotron app.