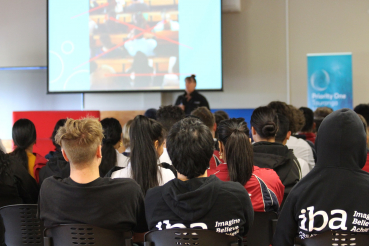 How many of us have ended up where we planned when we were 16 years old?
It is easy to take for granted our unexpected and often eventful path to a meaningful career especially with the amount of information, opportunities, and networks currently available. However, with this increase in choice also comes an increase in pressure to choose "the one".
Throw in a pandemic for good measure and we can see the importance now, more than ever, for our school leavers to be able to adapt and whakawhanaketia (develop) within the uncertainty that surrounds them.
Growth starts with several factors and to ensure our rangatahi (youth) have the best possible conditions to succeed, THRIVE (Together Helping Rangatahi Into Vocational Exploration) under Instep took the opportunity to develop an event-based around the holistic framework of Whare Tapa Wha. Addressing key concepts like Hinengaro (Mental and Emotional Wellbeing) Whanau (Family and Social Wellbeing) and Wairua (Spiritual Wellbeing), we can make sure our youth are in a good space to begin their vocational exploration and connect with people who are genuinely concerned with their success.
With representation from 11 local education providers and over 150 students in attendance, we were honoured to have some high class and informative speakers give their time to support this important kaupapa (initiative/purpose).
Covering relevant and valuable topics such as anxiety, identity, goal setting and decision-making students were encouraged to get involved with interactive sessions, questions and answers Pathways panel, and meet with some of the key community and education providers in the Tauranga Moana region.
"Ramp It Up was an opportunity to remind students that their individual aspirations and overall well-being always deserve as much attention as any career path they might be considering," says Jay Tihema, Operations Manager for Ara Rau. "Ara Rau was proud to support this kaupapa in highlighting the importance of supporting rangatahi to consider their careers from a holistic perspective. "
An early supporter of the event was Foster Construction who not only provided all the food for the event but also brought their flash as BBQ and master chefs to ensure students started off the day, the right way with a massive kai.
Foster Construction has a history of supporting these types of initiatives and are committed to continually building the construction industry with enthusiastic young people who are driven to succeed.
Vocational Coordinator Ella Dunlop is aiming to make this a yearly occurrence and tautoko (support) students to connect and engage with their community before leaving school to start their next adventure.