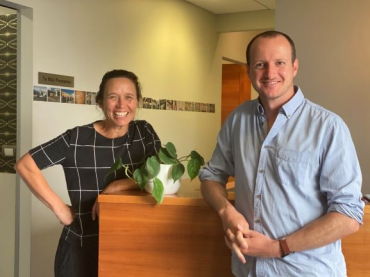 Veros closed out 2020 by announcing the appointment of two new standout shareholding partners, Adele Hadfield and Paul Spurdle, who join the leadership team at Veros. The appointments build on the depth and unique skill set of the team at Veros as the company increases its capability across the property sector of New Zealand.
"We're delighted to announce these latest appointments that recognise the leadership and skills of Adele and Paul, and signal another milestone as a company," says Managing Director, Morgan Jones. "Over the last few years, we have added more talented and passionate staff to our team. Paul's Development Management and Property Advisory skills are sought after nationally, and particularly he has a real passion for bringing about positive change and growth to his home town of Rotorua. Adele has successfully established and led the Strategic Advisory offering for Veros, which is supporting clients across the country in solving a wide range of complex issues. We live in a dynamic country that is grappling with wide-ranging urban growth challenges, new ways of funding, changing demographics, and changing community and housing needs. Paul and Adele bring exciting skillsets and expertise to strengthen the unique value and commercial expertise we offer."
Paul has an established and growing reputation in the Bay of Plenty property sector. "There is strong alignment between what I want to achieve in my career and what Veros wants to achieve in creating and delivering better places for our communities," says Paul. "I'm pleased to be taking a leadership step alongside Adele, as we work together on a diverse range of projects to support communities throughout New Zealand."
Adele joined Veros in 2019 off the back of 20 years working in local government in New Zealand and Australia, and for Urban Regeneration agencies in the UK. Adele is an industry-leading advisor in shaping and delivering projects across urban and provincial NZ.
"I'm enjoying working with clients, in a partnership approach, to unlock opportunities," says Adele. The nimble approach of the Veros allows us to work swiftly and collaborative and pivot in a changing environment. "Veros has a great client focus and energy."
Veros work across the urban growth and development spectrum including planning, policy, property advisory, strategic projects, development management and project management. Morgan says the addition of Adele and Paul broadens our service delivery capacity and capability. "We are delighted to welcome Paul and Adele to their new roles in our leadership group, and we congratulate them on these appointments. These two have a passion for delivering excellent results for clients and advising on and leading some of the most exciting projects currently underway in New Zealand."