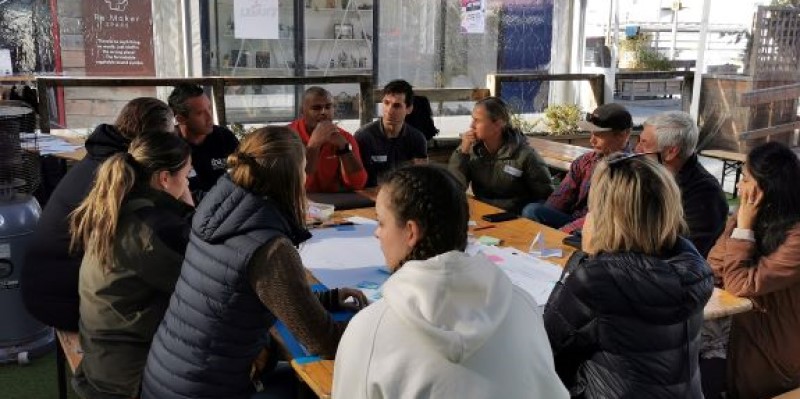 Ara Rau recently ran the first 'Art>Work' event on 24 June in collaboration with the ReMaker Space. Developing creativity, employability skills and career awareness in rangatahi through a range of practical workshops and activities was the focus for the day, guided by passionate professionals from the wider community.
Almost 30 youth between the ages of 14-24 from five local education and training providers were in attendance, including ImpacTauranga, Bay Pathways, IBA, Tauranga Girls' College and SportsBOP Rangatahi and Wāhine Toa programmes.
Students had their pick of six different workshops covering various skillsets, ranging from sewing and toi Māori to woodwork and animation. In addition to the artistic focus, it also presented the opportunity to consider related areas such as tech, construction and sustainability. With each session led by accomplished creative entrepreneurs who shared their stories as well as their expertise, facilitators were able to inspire confidence and capability while introducing real-world options for youth career pathways.
Although the ever-evolving creative industry contributes over $17.5bn to the GDP and 6.6% of the NZ workforce (NZIER Summary, 2020) and is increasingly popular among many young people, it remains a largely misunderstood and underrepresented career path across many parts of our education sector.
With creativity itself being continually regarded as a highly-desired skill in the modern workplace, often encompassing other strengths such as problem-solving and innovation, Art>Work aimed to highlight some of these realities to providers in attendance and how we might work together to improve opportunities for our future leaders. Everything from increased emphasis on youth entrepreneurship, improving health and well-being through to holistic development and cross-collaboration between organisations was covered, few stones were left unturned towards collectively tackling the multiple barriers rangatahi face in navigating their opportunities.
Overall the pilot event was a positive success, allowing rangatahi to explore their many interests, talents and options in a safe and collaborative environment. We're grateful for all the hard work and support from ReMaker and Okorore to make it happen, and look forward to future joint endeavours.