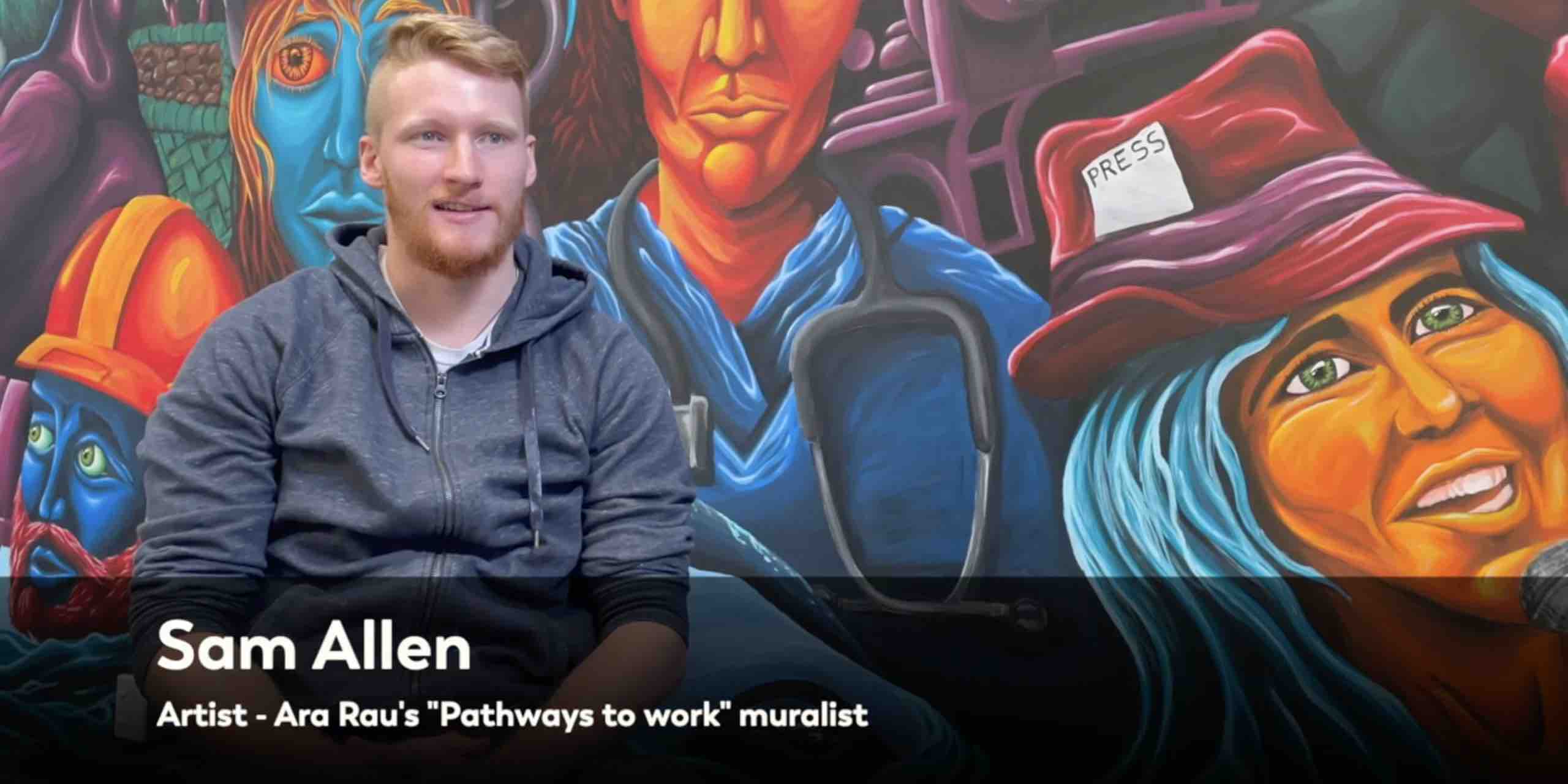 The Ara Rau – Pathways to Work hub opened to the public in November 2020, with the purpose of supporting our people in the community to better connect to employment or up-skilling opportunities. Through building confidence and removing barriers for individuals, the Ara Rau team have been busy turning the hub into a supportive, safe space to empower people and help them realise their potential.

Recently, local artist Sam Allen transformed this purpose into a work of art depicted on the Ara Rau hub walls. Sam realised his dream three years ago when Bolivian artist Pablo Ruiz recognised Sam's talent, opening his studio at The Incubator to Sam, and mentored him for three months. Since then, Sam has created numerous mural pieces around Tauranga and now mentors youth to help them pursue their own creative dreams. You can view the full video interview of the Ara Rau team and its mural artist here.

Ara Rau Operations Manager, Jay Tihema and Employment Navigator, Marissa Nikora have been working hard to create fit-for-purpose services that support people onto meaningful career pathways. They have worked with a range of jobseeker demographics, from those who have been displaced by Covid-19, to those transitioning between different careers, or at the beginning of their career journey.

They also work with industry to understand their employment opportunities, and in turn support people to become work-ready and meet employers' various industry requirements.
The first Industry Open Day will take place on Tuesday 21st September, to bring awareness to the Infrastructure Industry and support the transition into numerous roles in the sector. People can also book a one-to-one appointment with Jay or Marissa for job search or career guidance support.
If you're an employer and would like to discuss your job vacancies with the team to see how they can support your recruitment efforts, please email: info@ararau.co.nz.