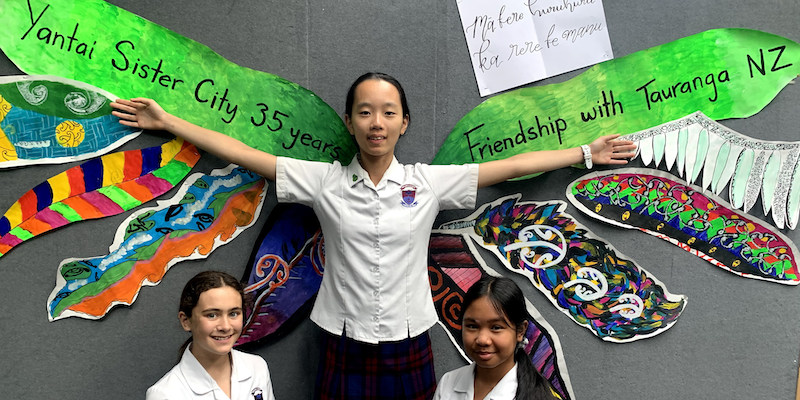 Last month marked the 35th anniversary of sister city relations between Tauranga and Yantai City in Shandong Province, China.
Yantai is well known for its wine and horticultural providence, producing apples, pears, cherries and wine. It is also an important centre for marine related research and commercialisation, with strong academic and research relationships existing between Waikato University's Coastal Marine Field Station and the Yantai Institute of Coastal Zone Research. In addition to marine related research, both cities work together in areas such as sport exchanges, trade promotion and development, and tourism.
However, one of the most enduring relationships is the school exchange programme that exists between Tauranga Intermediate and Yantai No. 2 School. This relationship began in 2002 and over the past 20 years has enabled young people from both cities to develop lifelong friendships and improve their knowledge and understanding of different cultures.
Annemieke Hart, Tauranga Intermediate's International Director says "Tauranga Intermediate is extremely fortunate to have such a long-standing relationship with our sister city Yantai. International exchanges have helped students become global citizens while appreciating their own culture. As well as developing lifelong friendships, the exchanges give our students learning Mandarin, practical opportunities to put their language skills into practice. It has also helped Tauranga's youth 'sow a seed' for future pathways, whether that be further education, careers or travel."
To celebrate the sister city anniversary, a video presentation featuring Tauranga Intermediate students kapa haka group and city representatives was sent to Yantai (watch it here). In return, Yantai City prepared a series of artworks depicting the relationship between both cities (see below).