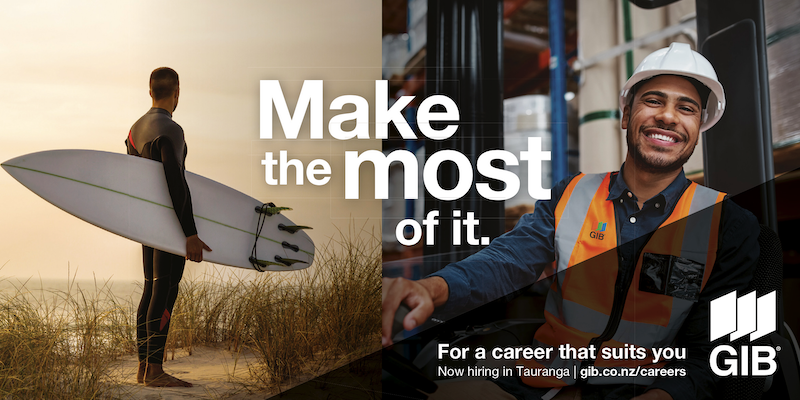 As it hits an exciting milestone in the construction of its new state-of-the-art facility at Tauriko, Winstone Wallboards has begun the search to fill the 100 permanent roles required to operate what will be one of the largest manufacturing and distribution centres in New Zealand.
While you may not be familiar with the company name, chances are you'll have heard of their product. Winstone Wallboards is the maker of GIB® plasterboard products, which are in homes, offices, marae, hospitals and pretty much every kind of venue you could think of throughout New Zealand. Providing a 50% increase on the capacity of the existing production facility in Auckland, the new Tauriko operation will be critical not only for meeting demand for product, but embedding sustainable practices into the manufacturing and distribution process.
This month will see installation begin on the production plant, which will enable the facility to produce 5400m2 of GIB ® plasterboard an hour. Or to put it another way, one house lot every 10 minutes. As such, it will play a critical role in supporting efforts to address the current housing shortage and provide for warm, dry, healthy homes throughout New Zealand.
But speed is not the only important metric associated with the new production line. The new plant will also support the company's focus on sustainability, as it will reduce dust emissions and incorporate recycled product and water into the manufacturing process, thereby increasing energy efficiency and reducing carbon emissions.
The plant equipment installation process is scheduled to take about a year, with around 300 containers of equipment expected to come through the Port of Tauranga from Canada, China and Europe over this period.  But while the plant equipment has been sourced from across the globe, the company is seeking to attract talent locally to ultimately operate it and distribute the product.
Winstone Wallboards' head of HR, Suliana Mailangi, says that hand in hand with the construction of the company's biggest facility will come its biggest ever recruitment drive, with a wide range of roles needing to be filled.
"It's really exciting that we're able to create so many more employment opportunities here in Tauranga, and we're looking forward to welcoming people from across the wider Bay of Plenty region into our Winstone Wallboards whānau."
"We operate a unique shift structure for our production roles that supports our staff to balance their work with other interests or responsibilities, and as part of the wider Fletcher Building group of companies, offer a safety-first culture, competitive pay and a broad range of career progression opportunities."
"We're particularly excited about how this might support our commitment to attract a diverse workforce. We think that joining us at the start of our journey here is a uniquely exciting opportunity, and one which we would encourage anyone interested to make the most of."
For more information on recruitment events coming up next month, visit GIB careers.
Also, watch out for the upcoming GIB Industry Open Day, in collaboration with Ara Rau, on November 9th, open to everyone in the community. This will be the second IOD in a series of workshops aimed at communicating all the opportunities and support available to help people become work-ready.