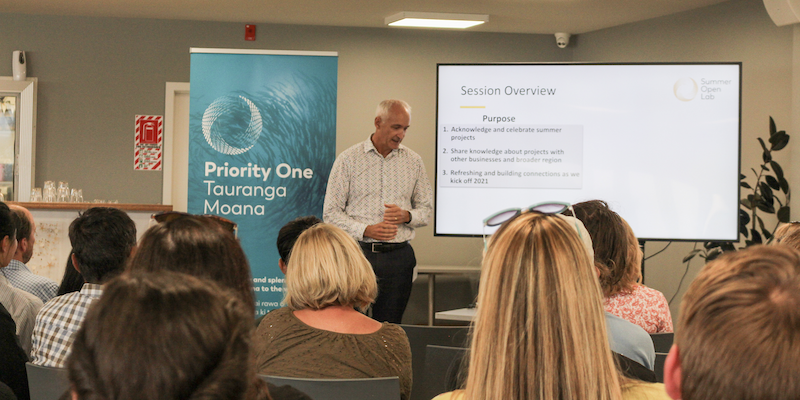 This year will mark half a decade for Priority One's Summer Open Lab (SOL) programme. Designed to support businesses who are hosting summer students, the programme offers weekly workshops around the theme of leading and managing innovation, running from November through to February next year.
Through SOL, students benefit from the opportunity to hear from industry experts and be part of workshops across areas such as design thinking, project management, ten types of innovation, teams and culture, entrepreneurship, and presentation skills. SOL culminates in our summer celebration event, at which last year we had 130+ people at Mount Surf Club.
SOL is also designed to help companies host students, especially during the busy pre- and post- Christmas periods, providing relevant professional development and peer connections.
Companies previously involved include Bluelab, GPS-It, PlantTech, Robotics Plus, Swiped On, University of Waikato and Zespri, with more getting involved each year.
The programme is unique in New Zealand and has two goals;
To grow connectivity between businesses and universities, through support that makes it easier for more businesses to host more students.
To grow our reputation and desirability as a destination for students, through providing an awesome learning experience for them.
"Our SOL programme is a great example of how collaboration between businesses can create something valuable and distinctive for our region" says Shane Stuart, Innovation Manager for Priority One and the University of Waikato, and manager of the SOL programme. "It's been co-created to meet the needs of both companies and students, and we get hugely positive feedback from both."
SOL is free for Priority One members and for businesses hosting students via the Callaghan Innovation R&D Experience grant.
The programme kicks off this week, but people can join in any time during the summer. So, if you have students working in your business over the summer, and think this could be of interest to you, please contact Shane at shane@priorityone.co.nz.