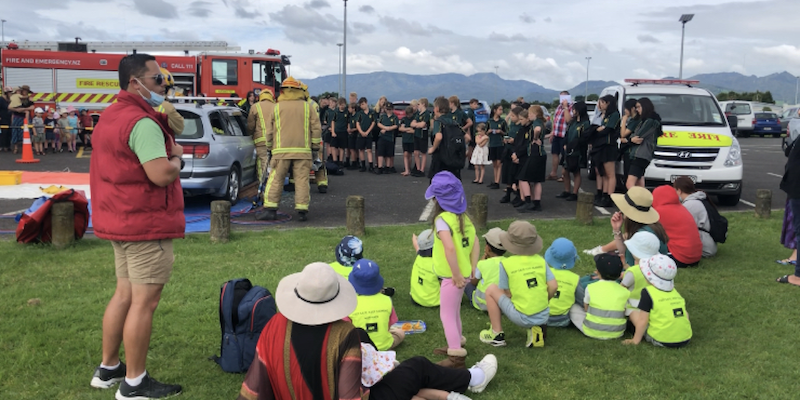 Despite level two restrictions and time restraints that we had surrounding the event, community support at Katikati's A Higher Perspective Careers Expo was overwhelming.
Hundreds attended throughout the day from all around the community, including students from Katikati College. Twenty different vendors came fully prepared to represent their industry, encouraging a fun and enjoyable atmosphere for the public, with support from local businesses
Post-event feedback has been very positive, with one young job seeker stating 'It was way better than I thought it would be!' Another of our young rangatahi, a 17 year old Katikati College student, said her stand-out moment was learning about some of the different job opportunities and services available to her.
Melody Lamb, one of the lead organisers for the A Higher Perspective Careers Expo, affirmed her personal highlight as "Seeing the rangatahi I've been journeying with show up on time to volunteer, going the extra mile throughout the whole day. Some of these rangatahi have not volunteered before nor been given much responsibility. But, their hard work was invaluable and had a positive effect on the experience of others who attended the expo."
Throughout the day, there were several prizes including a draw for helicopter rides, generously donated by Adventure Helicopters. The first draw's winner went to Yvette Huxtable from Katikati College, and the second draw went to Katikati Volunteer Fire and Emergency for the most popular activity.
Other attendees included the Western Bay Of Plenty Council, who were so impressed that they suggested holding the event annually. With such positive feedback and encouragement from the council, community and all those who attended the expo, the Katikati Community Centre staff are now seriously contemplating an annual A Higher Perspective Careers Expo.
Melody Lamb and the A Higher Perspective Careers Expo would like to extend their thanks to everyone who made this day possible and investing in our youth. "Your support has made an impact on our rangatahi's lives, and I believe will help shape the future of our community."
Keep up to date with post-event coverage and upcoming success stories with Ara Rau and their social media channels.
For further information about the A Higher Perspective Careers Expo or to opportunities to show your support in the Katikati community, contact Melody Lamb at yec@katikaticommunity.nz