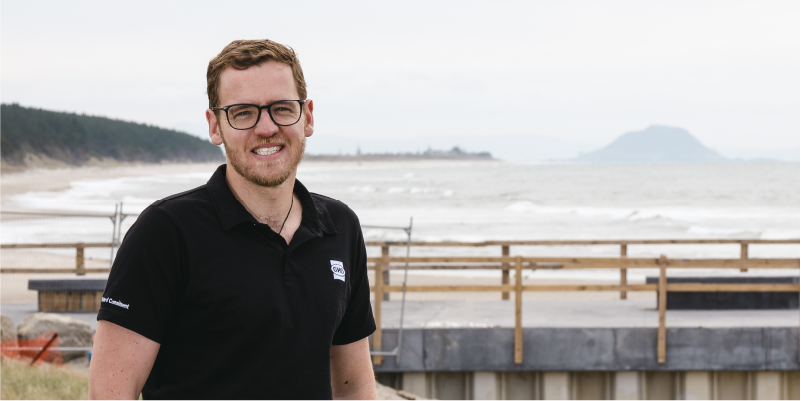 The Regional Leader of GHD's Tauranga office, Ryan Orr, has recently picked up the prestigious ACE Emerging Leader award.
The achievement recognises individuals who have a passion for leadership in the consulting sector, show a commitment to developing themselves, and demonstrate exceptional leadership qualities in their work and communities. On receiving this recognition, Ryan said "It's an honour to be recognised as an emerging leader. Working with awesome people to achieve great outcomes for our communities is what gets me up in the morning. I see this achievement as an acknowledgement of the hard work our people put into projects across the Waikato and Bay of Plenty."
Ryan joined GHD a decade ago as a graduate and has quickly progressed to take on several leadership roles, most recently leading both the Waikato and Bay of Plenty regions. When he first took over the Tauranga office four years ago, he quickly grew the business from four to 26 people in the region. Under his leadership, the team has supported several key projects with Tauranga City Council, most recently developing the Water Watchers Plan to address the region's water shortage.
Passionate about supporting Tauranga, Ryan has leveraged his role to build relationships with local suppliers such as Ground Zero Coffee, who collaborated with the GHD Tauranga team to create a unique blend of coffee for their office. He has also identified project opportunities for local consultancies and pro bono work for his team.
Van Tang, Executive General Manager – New Zealand and Asia Pacific, said "Ryan's relentless drive is contagious, inspiring people around him to give that little bit more, to push that little bit harder. The vision he sets is one of continuous improvement – to not just meet but exceed our client and community needs."
Having won, Ryan will now take up a role on the ACE New Zealand board for one year.