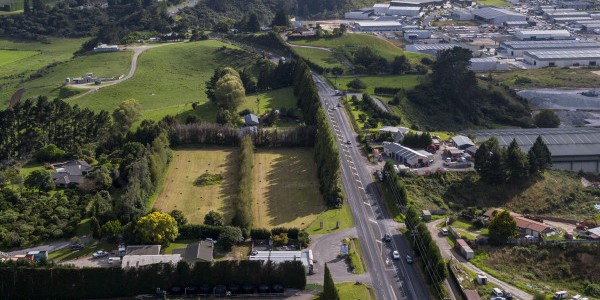 The nationally strategic upgrade of State Highway 29 (SH29) in and out of Tauranga must happen now – and Waka Kotahi's 30-year timetable would set back housing, transport, and economic growth and resilience for the region and the country, the Western Bay of Plenty Infrastructure Forum has warned.
"Tauranga and the Bay of Plenty are at a critical juncture where unlocking the full potential of the region hinges on removing the SH29 bottleneck," says Nigel Tutt, Chair of the Western Bay of Plenty Infrastructure Forum (and Chief Executive of Priority One, the Western Bay of Plenty's Economic Development Agency). "We need this to happen now, not in Waka Kotahi's projected timeframe of 30 years."
Late last month, the Bay of Plenty Regional Council, Western Bay of Plenty District Council, and Tauranga City Council each approved the Waka Kotahi business case for upgrades to the Tauriko section of SH29, which would increase capacity to three lanes each way with a new bypass and repurposing the existing SH29 as a local transit road.
"What should be a vital transport artery connecting Tauranga and the Port of Tauranga to the rest of the Golden Triangle is instead a transport and economic choke-point," Mr Tutt said. "It contributes to the worst congestion in New Zealand, as widely reported this week. And it is holding back much-needed housing projects, stifling domestic manufacturing businesses, and threatening export growth and supply chain security.
"By addressing this choke-point, we can unlock over 20,000 new greenfield homes, 6,500 more jobs in the fast-growing industrial estate, and over 11,000 jobs along the transport corridor."
The transit corridor would connect the new homes to over 70% of commercial activity in Tauranga, schools, and hospitals and provide the critical mass needed for frequent public transport services.
Greg Pert, Managing Director of Tranzliquid Logistics Ltd, says upgrading this section of SH29 would also unlock greater road freight efficiency and productivity and enhance connectivity and accessibility within the Golden Triangle.
"We need this highway to act as a seamless transport corridor, connecting residential areas, industrial zones, and key destinations, facilitating smoother movement of people and goods. Currently, it is far from that, and it's imperative we work on a solution now – not in 30 years!"
Leonard Sampson, Port of Tauranga Chief Executive, agrees.
"Port of Tauranga is Aotearoa New Zealand's largest port, and demand on it will only continue to increase. Investing in SH29 directly supports export growth from the port, contributing significantly to the national economy. It must provide seamless access for freight vehicles, facilitate efficient export of goods, and maintain Tauranga's strategic hub status.
"The SH29 upgrade would strengthen regional and national resilience, support the Port of Tauranga, and ensure robust supply chains. It would boost economic stability and future readiness."
Forum members believe the game-changing highway upgrade is needed now, and the Government needs to step in.
"Tauranga has the least affordable housing and rental market in the country," says Mr Tutt. "We are already 5,000 homes short. That has a knock-on effect on our ability to attract people to work in the city, including its growing industrial park, which could be on track to be the country's biggest. Meanwhile transport links within the city and out to the Golden Triangle become more fragile by the day, a serious risk given the national strategic importance of Tauranga."
The upgrade would include a new offline SH29 corridor for inter-regional traffic between Redwood Lane and Takitimu Drive (that then enables the current state highway to perform a local road function with multi-modal services); a new inline six-lane SH29A corridor between Takitimu Drive and Barkes Corner, including dedicated bus lanes; and widening of SH36 between Lakes Boulevard and SH29A including dedicated bus lanes. 
The Western Bay of Plenty Infrastructure Forum brings together stakeholders from across the region, including business leaders and community representatives, to identify and prioritise infrastructure projects and advocate for investment.
The Forum will play a vital role in shaping the future of Tauranga and the wider region, working together to ensure that the region has the infrastructure it needs to support growth and create opportunities for the local community and wider New Zealand.