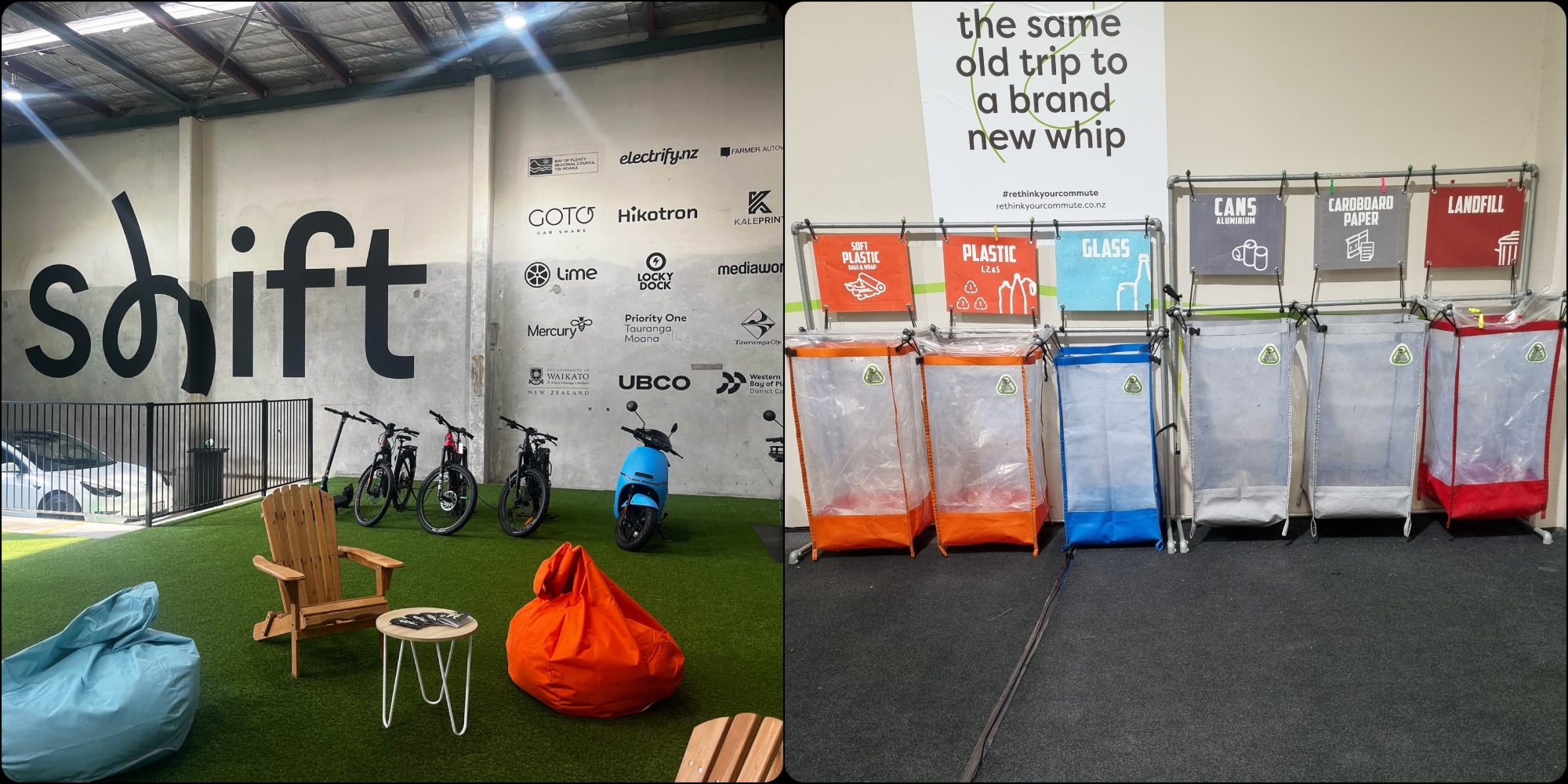 Our Shift Hub is a remarkable collaboration aimed at showcasing various commuting options in Tauranga Moana. However, we're also proud to offer a dedicated space within the hub focused on shifting waste from landfill, thanks to the Waste Wizards and Why Waste.
To address the issue of general waste and recycling at the Shift Hub, Waste Wizards have supplied the Hub with their magic clear bins, which have already proven their positive impact at events and schools, addressing the consistent issue of avoidable waste being discarded. However, addressing this challenge requires a fundamental change in mindset — a deeper connection to our consumption habits and a collective effort to reduce, reuse, and reimagine waste creation. As founder Vinnie Callister rightly says, "we're all in this together."
Why Waste, a worm farm subscription service, has provided the Shift Hub with a solution to its biodegradable waste. Launched in 2014 by Leo Murray, Why Waste has evolved from a van driving across Tauranga and Mount Maunganui collecting food waste and scraps, into providing worm farm services to businesses. This innovative approach allows businesses to separate food scraps and convert them into valuable nutrients for worms, rather than sending them to landfills.
"We're thrilled to have services like these available to businesses, events, and schools in Tauranga. In fact, we're delighted to have them as a part of our Shift Hub, where they can showcase their incredible work!" says Marissa Nikora, Priority One Sustainability Lead.
The business community plays a vital role in transforming waste management practices, and initiatives like Waste Wizards and Why Waste set an excellent example for others to emulate. Embracing sustainable waste management not only benefits the environment but also presents economic opportunities and enhances corporate social responsibility.
By promoting and supporting these initiatives, local businesses can actively contribute to reducing their environmental footprint and fostering a more circular economy. Businesses can integrate waste reduction practices into their day-to-day operations, encouraging staff and customers to adopt more environmentally friendly habits.
For more information on these services, and how you can incorporate them into your own business practices, contact Priority One Sustainability Lead, Marissa Nikora: marissa@priorityone.co.nz.