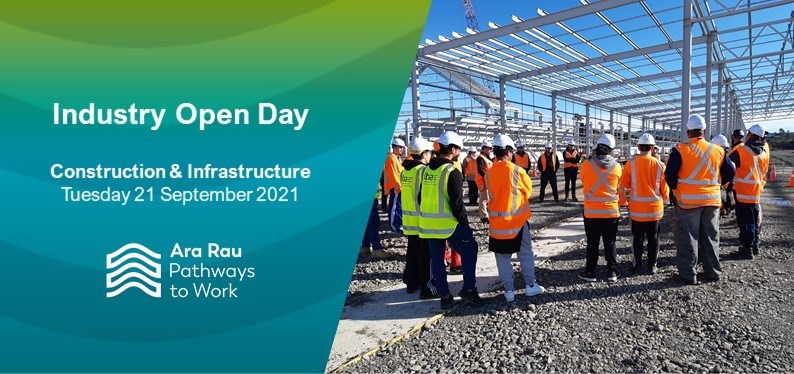 Ara Rau is working with employers to develop a positive, inclusive, and empowering employment culture across the region, ensuring everyone in our community has the opportunity of a quality job here. Forecasted job growth means we need to develop and enable local people to meet predicted skills shortages. Our skills and employment hub (Ara Rau) help to connect the labour supply and demand pipeline by working with employers and jobseekers to develop relationships for long-term success.
We are excited to begin our Industry Awareness Open Days on Tuesday 21st September showcasing the Construction and Infrastructure Industry. This is a chance to highlight to the community the job opportunities available in a specific industry and work through what's needed to be work-ready. At our Construction and Infrastructure Industry open day, you'll hear specifically about the construction of the Tauranga Northern Link – a major infrastructure project beginning later this year.
By coming along to the open day you'll find out what's required to be work-ready in the construction and infrastructure sector. Our goal is to pathway those ready for work into employment, and to identify further support for those needing more help. This might include referrals to other services or one-on-one support.
The Construction and Infrastructure Industry Open Day will be the first of a series Ara Rau will be running to showcase key industries with significant employment opportunities across Tauranga Moana. With plenty of jobs being created across a range of sectors in the region, it's going to take a collaborative effort to ensure business sustainability and community prosperity.
If you would like to find out more, please contact the Ara Rau team at info@ararau.co.nz.