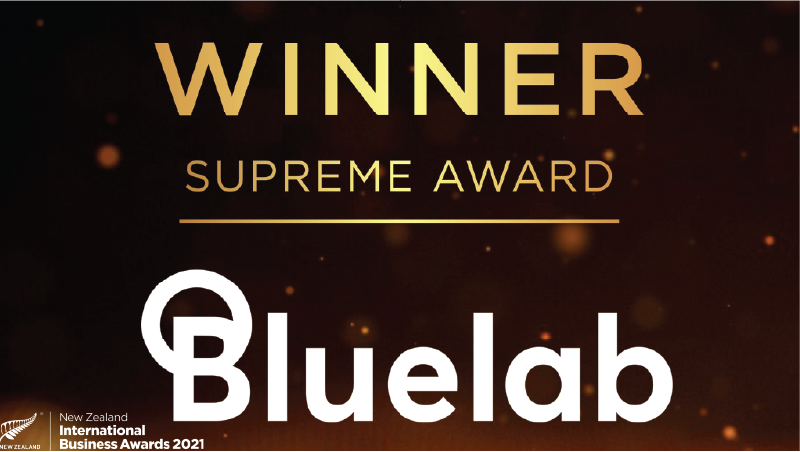 Bluelab has been announced supreme winner of NZTE's New Zealand International Business Awards 2021, at last week's [17 February] first-ever broadcast ceremony.
Operating for more than 30 years, Bluelab is internationally recognised as an industry leader, and provides tools and systems to measure critical factors like pH, temperature and moisture levels when growing plants in controlled environments. Bluelab provides high-precision measurement technology for controlled environment agriculture, including greenhouses, vertical farms and hydroponic production, with products designed, manufactured and exported globally from its base of operations in Tauranga.
The business previously won the Excellence in Innovation category at the New Zealand International Business Awards 2019.
As well as the Supreme Award chosen by a panel of judges, Bluelab earlier won a category award for Excellence in Digital Commerce Transformation, presented by the Minister for Economic and Regional Development, Stuart Nash.
The judges described Bluelab as a worthy Supreme Award winner, with its success driven by a high level of customer understanding and being present at every step of the customer journey. They also praised Bluelab's embrace of digital channels to enhance both customer experience and their own business resilience during the COVID-19 pandemic.
A record 53 finalists made it through to the last stages of the awards for 2021, following a rigorous application and judging process. Winners were chosen by an independent panel of judges with extensive experience in growing businesses internationally.
The ceremony was delivered via a free online broadcast for the first time in the Awards' 58-year history, in response to New Zealand's move to the red traffic light setting in late January.
Four new awards for 2021 were presented at the ceremony: Innovation in Response to COVID-19; Leveraging Investment for International Growth; Excellence in Digital Commerce Transformation; and Excellence in Sustainability, brought to you by ANZ.
A special award was also presented to Moa Holdings NZ Limited for Extraordinary Growth in Emerging Business, alongside the overall winner for Best Emerging Business, Dawn Aerospace. Minister for Trade and Export Growth, Damien O'Connor, presented both awards.
David Downs, convenor of judges for the awards, said: "After an incredibly challenging two years in business, it was a pleasure to be able to recognise our extraordinary finalists and reveal the winners of this year's awards.
"Taking the event online was a big step for us, but it gave us a uniquely public platform to share some of the amazing business stories we encountered during judging and I'm sure there were a lot of proud people watching up and down the country.
"These businesses have really done Aotearoa proud, they're making remarkable progress in international markets, and they're bringing the results of that progress home to benefit all of us. I think that is worth shouting from the rooftops."
Sarah Berry, Head of Transaction Banking at ANZ Bank New Zealand, commented: "ANZ was excited to again partner with New Zealand Trade and Enterprise as a category sponsor, including supporting an important new category for sustainability.
"ANZ is committed to celebrating the resilience and successes of businesses across the entire export community, and supporting more of our businesses to find global success and shape the future of our export economy."
Thanks to NZTE for providing the media release. See the original story here.