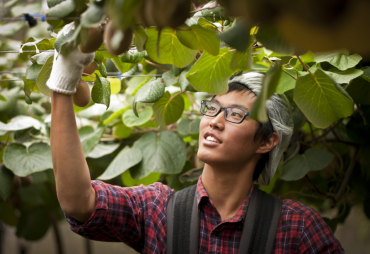 14,500 people required to prepare BOP orchards for the 2021 harvest
Kiwi job seekers encouraged to work on kiwifruit orchards over coming month
Over 14,500 people will be required on kiwifruit orchards across the Bay of Plenty over the coming summer months to prepare vines for the 2021 season.
This year sees an increase in the opportunity for New Zealanders to work on kiwifruit orchards as the industry grows and border closures from COVID-19 have meant there are less overseas visitors with Working Holiday Visas available.
"The work available on kiwifruit orchards over the coming months is a win-win solution for both the industry and job seekers", says NZKGI CEO Nikki Johnson. "We are aware that the number of job seekers in the Bay of Plenty have increased substantially since the onset of COVID-19 and we welcome them to join our booming industry".
Throughout October, people are needed for the thinning of flower buds on kiwifruit vines. People with the right skills are also required for trunk girdling. Girdling and bud thinning continues in November and December and more people are required for the pruning of vines and thinning of fruit.
Ms Johnson says the kiwifruit industry offers a great opportunity to work outside in the sunshine as summer approaches. "It's a great way for locals to work with one of the Bay of Plenty's largest economic contributors." In 2019 the kiwifruit industry returned over $1.5 billion in direct payments to the Bay of Plenty.
The 14,500 people required for the peak of summer work in the Bay of Plenty is not far off the almost 20,000 people required in the region for picking and packing at the peak of the kiwifruit harvest. "The work that will take place on orchards until the end of the year is very important to ensure we can harvest good looking, great tasting kiwifruit in 2021", says Nikki.
Those interested in working on kiwifruit orchards over summer can find a list of employers on the NZKGI Facebook page. General advice on the work available over the coming months is available on the NZKGI website.