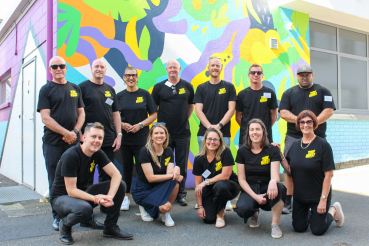 Instep has partnered with some leading WBOP businesses to host our local secondary school principals for another epic Principals' Day Out. This year's theme was easy to choose given the far-reaching impact of Covid-19; innovation – and especially the importance of utilising the innovative mindset at times of change and crisis.
The principals gathered at Priority One to receive an update from the team, followed by a presentation from PlantTech CEO Mark Begbie on the massive advancements being made in the field of applied agriculture and horticulture research, the benefits of which will surely transform the Bay of Plenty horticulture industry.
The group then bussed over to Virtuo in Mt Maunganui where design-thinking gurus, Blythe Rees-Jones and Karl Stevenson, facilitated a session on how the innovative mindset can be embraced by schools. A philosophical discussion took place, focused on the purpose of schools and how to navigate the existing educational system to ensure students depart with the 6 C's, future-proofed to contribute to the high-skilled, high-value workforce required by the WBOP. Karl was stoked to have the opportunity to work with local educators: "Whether it be an education challenge or a systems challenge for their schools, we can certainly help frame that thinking and get them to the desired end state."
Next stop was Bluelab, where Head of Innovation and Strategy, Jono Jones, presented on Doblin's 10 Types of Innovation. Jono discussed how Bluelab had adapted to the restrictions of the first Covid-19 lockdown before Operations Manager, Mandy Jarvis, took the group on a tour of the newly fitted out workspace. The Principal of Tauranga Boys' College, Robert Mangan, was so taken with the concepts introduced during the group activity at Bluelab that he and his team have since applied them to the overall organisation of his school. "A very enjoyable and worthwhile use of our time to step out from the day-to-day running of our schools". Top marks for homework completion to Tauranga Boys' College!
Lastly, the group was hosted by recent University of Waikato Engineering graduate and now intern, Kale Black, at Robotics Plus (RPL) in Te Puna. Kale shared his story of struggling for motivation at secondary school but ultimately finding something he was passionate about and challenged by to invest himself into. Kale's been involved in some cutting-edge developments (think driverless apple-pickers and sprayers) that have positioned RPL as a global leader for agriculture and horticulture technology. RPL CEO Steve Saunders also spoke regarding the necessity of teaching business competencies for students to be able to innovate and grow beyond the restrictions of their immediate environments.
Te Puke High School Principal Alan Liddle summed up the general feeling of the group at the day's conclusion: "Thank you once again for another great Principals' Day Out. From my perspective, the focus on innovation was an important principle for us principals to continue to reflect on."
We, at Instep, are privileged to work with such a visionary and collaborative group of principals and if even half the ideas explored at Principals' Day Out get off the ground, the WBOP has an opportunity to lead the country in terms of innovative practice in schools. Onwards and upwards!