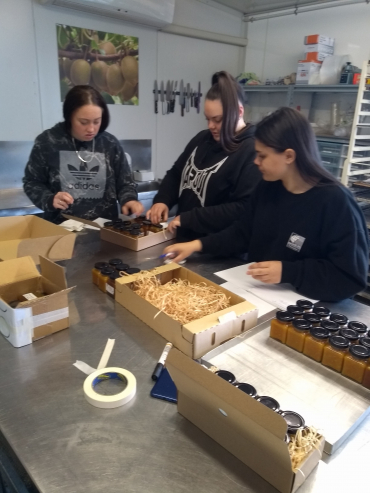 This year marks the fourth year for Pacific Coast Technical Institute's Manufacturing Trades Academy. The programme is delivered to students from local secondary schools including Waihi, Te Puke, Mount Maunganui, Tauranga Girls' and Boys' College. The focus of the Academy is to introduce students to the skills sought by employers in the food manufacturing industry. Some of the topics include product development, manufacturing processes, packaging, marketing and innovation, food preservation, food chemistry, and quality management.
The programme uses an enquiry approach which sees the students working with plant or animal-based raw materials as a component of a product. This could be as simple as designing a new ice-cream flavour or as diverse as using orange peels to make essential oil for use in skincare products. This project-based learning gives an in-depth look at the production process from product concept through to marketing and sales.
Another focus of the programme is sustainability in manufacturing, looking at how to reduce the environmental impact of the manufacturing process and add value to something that would often end up as waste. This year the students went to a local mandarin orchard where they were given access to the left-over unharvested fruit and tasked with conceptualising an idea to incorporate it into a product.
One group dehydrated the fruit and milled it into a powder, which was used to make candles. Another made a marmalade which used honey from the Bees in School Apiculture course as the sweetener. The third made a range of skincare products including an exfoliating scrub bar, lip balm and moisturising shampoo/soap bar. The product range also incorporated waste products from the hemp oil industry.
In previous years, products that have been created fall under categories such as skincare products, biopharmaceuticals, food products and more. Some products include lotions, moisturisers, soaps, scrubs, probiotics, sport supplements, ice cream, oil, sauces, food additives, beverages, essential oils, household cleaners, and more.
Pacific Coast Technical Institute is a Category 1 NZQA approved Tertiary Provider. Providing Nationwide training programmes in the Apiculture, Agriculture, Food Manufacturing, Baking, Animal Care, Heights and Confined Spaces and Service Industries. Working with a wide range of schools, public and businesses to deliver relevant customised and practical based programmes.
To find out more about Pacific Coast Technical Institute, click here.