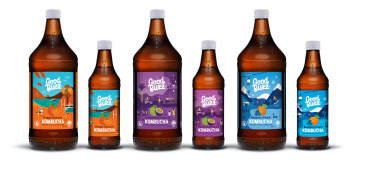 Good Buzz Kombucha was founded by Alex and Amber Campbell and their three children back in 2014, in Wellington. Amber began making Kombucha for Alex after he gave up alcohol 10 years ago. After multiple requests from friends for more kombucha, they decided to go all in and start a family business.
They began marketing their product at four different farmers markets across Wellington. By 2016, they were running out of space at their Wellington brewery and decided to move into a new facility in Tauranga. When they arrived in Tauranga, they had 350 nationwide customers. Currently, they have over 2000 customers with continuing growth. Good Buzz is very involved with the community, sponsoring school fundraisers, mental health programs and the Bay of Plenty Steamers.
Kombucha is a fermented tea full of beneficial bacteria. Good Buzz has recently released two new flavours to their collection – Blueberry Peach and Passionfruit Guava –now proudly offering a total of ten different flavours. The process uses raw unrefined and organic sugar as well as aiming to source organic spices, herbs, and fruit powders in New Zealand, wherever possible.
Good Buzz is not only good for your tastebuds but is crafted with sustainable practices to be good for the environment too, acting in socially and environmentally responsible ways during the product creation process and throughout their organizational structure.
The products boast recyclable aluminium caps, cardboard boxes without plastic tape, and glass bottles. These glass bottles are not only able to be recycled but are also made of 70% recycled glass. The pallet wrappings are recycled through Future Post and all excess glass, cardboard and plastic are recycled as well.
Good Buzz has optimized their production line resulting in an efficient performance, reducing their energy costs and proudly announcing their utility bill to be less than $1,200 per month. They have reduced their waste by utilizing paper labels and digital printing.
The drink itself is made from organically produced ingredients therefore generating less chemical impact on the environment. The spring water used, from Otakiri Spring near Whakatane, has endured no chemical treatments making it better for the environment and you. The teas chosen for brewing are all certified organic, imported from Sri Lanka. All brewing refuse goes to the local compost.
Good Buzz demonstrates environmentally responsible processes and practices which help to maintain the Western Bay of Plenty to look lush and be inviting, for both people and businesses.
To learn more about Good Buzz, click here.