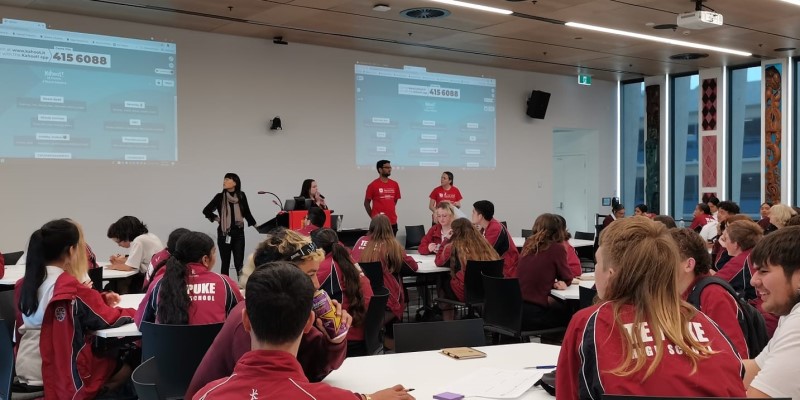 There are many awesome initiatives going on in our local secondary schools but we wanted to spotlight our friends at Te Puke High School this week. Enterprise Teacher Steph Davids recently organised a series of events for students to work their problem-solving muscles during their recent Innovation Week.
The week kicked off with Year 9 and Year 11 students submitting their ideas to the Young Innovator Awards – yia! Entries for this year's edition of yia! are now closed and with the increased turn-out from Te Puke High School and others, it's added up to a record number (close to 300) submitted for 2021.
Year 11 Enterprise students then completed their Market Day – where the 'Daddy's Donuts' team made over $300 profit. All business groups decided to donate some of their money towards the school's Breakfast Club as a part of their corporate social responsibility.
Year 12 and 13 Enterprise students competed in the Young Enterprise Scheme pitches in Tauranga. The 9 teams have been working hard developing their ideas and products and had the opportunity to showcase their ideas with Bay of Plenty-based entrepreneurs. "It was a real-world experience that we will never forget; to receive validation from business professionals was amazing," said Miah Hammond, CEO of Candle Aura.
To complete the week, all Year 11 Students bussed to the University of Waikato Tauranga campus and Toi Ohomai Poike campus to explore future opportunities and participate in innovative workshops. Students loved the opportunity to see what life is like outside of school and agreed this was a worthwhile experience. The efforts of the teams at Toi Ohomai and Waikato were hugely appreciated. Nathan Stewart, Education Pathways Specialist at Toi Ohomai, reported that staff there felt, "it was a really positive experience with the students," and that they will look to support such initiatives when there is capacity to do so in future.
Steph felt Innovation Week was a huge success and cannot wait to make it bigger and better in 2022. "Exploring innovation is more than creating new products or services, it allows students to be creative, think outside the box and develop their problem-solving skills."
We at Priority One will always offer our support where there are initiatives like these that encourage students to learn the innovation skills our local businesses desire. Great stuff, TPHS!