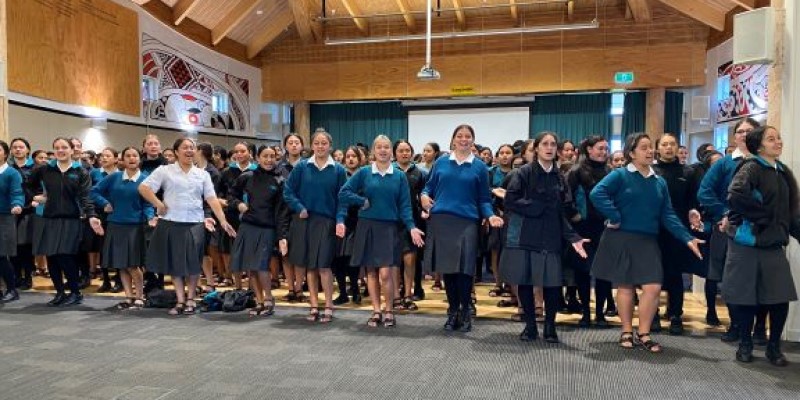 Priority One Instep have worked with Māori Economic Development Agency, Toi Kai Rawa to support the establishment of a partnership between the Tauranga office of engineering firm Aurecon and Māori immersion secondary school, Te Wharekura o Mauao.
A pōwhiri was held recently to officially welcome members of the Aurecon team to the Wharekura and to cement the foundations of this partnership. Essentially, Aurecon staff – with the full backing of management – have committed to provide additional tutoring for Mauao tauira (students) with regard to the STEAM disciplines (Science, Technology, Engineering, Arts and Mathematics), in return receiving the benefit of the kura's cultural expertise to build their cultural capability as individuals and as an organisation.
Aurecon maintains a policy of supporting their staff to complete several hours of community-focussed work every year. Tauranga Office and Water Practice Lead, Jodie Hurley and Civil Engineer, Waldo Posthumus, are well aware of the limited number of engineers across the nation – as well as locally – who identify as Māori. "Given the environmental and social challenges we face now and in the future, the need for qualified engineers connected to the whenua (land) and able to bridge Te Ao Māori and Te Ao Pakeha will only ever increase," says Jodie. Their team members identified that the best thing they could offer would be their knowledge in areas such as Science and Mathematics. From this the decision was made to tutor tauira (students) to take their place as future engineers for our region.
Te Wharekura o Mauao Tumuaki (Principal), Heywood Kuka and Tumuaki Tuarua (Deputy Principal), Jo Cameron, greeted the opportunity to work with Aurecon warmly and were quick to ensure a genuine partnership was what was being forged – one where the kaiako and tauira of Mauao utilise their cultural capability to provide an immersive education in Te Ao Māori for the Aurecon staff, in exchange for the contextualised tutoring support being received. At the pōwhiri, Matua Heywood drew attention to the notion that tauira, "can only see the path we put before them," and that they needed to see themselves belonging within the engineering space to be kaitiaki (guardians) of the future and be part of developing the solutions needed to address such issues as water care and intensification of housing within our communities.
We all look forward to seeing how this unique partnership evolves and will always seek to encourage mutually beneficial connections between our local businesses and school communities. If this interests you and you have an idea for how you could help, please contact Priority One Instep Manager Andy Howells: andy@priorityone.co.nz.