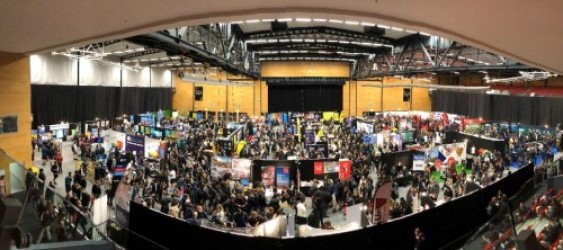 The most comprehensive annual careers event in our region is happening once again this week; Canvas Careers Expo.
Co-organised by Rotary and Priority One, we return this year to Trustpower Arena. With over 50 exhibitors – comprising education and training providers through to local businesses committed to representing their sectors – there will be a great variety of options for our young and not-so-young alike to explore.
This year's theme is Connections, which is really about our people understanding who they are and what they can offer in terms of their skills and strengths, then keeping an open mind as to where those skills and strengths could lead. A number of elements have been introduced to tautoko this theme, including an upgrade of the Canvas website that provides more information on how to connect with potential future pathways.
Instep Manager Andy Howells encourages people to come along on a mission to future-proof themselves: "The reality is that we don't know what new jobs may exist 5-10 years from now; the future of work is always changing. It might be more useful to think about the skills you have, the things you are passionate about and the kind of environment you work best in as starting points. And don't assume creative people cannot work in finance, or that structured thinkers cannot work in the arts; there's more flexibility than you might think in each sector and the expo is a fantastic opportunity to explore this."
We look forward to seeing our members take advantage of what is sure to be another hugely beneficial event for the Tauranga and WBOP community, this Friday and Saturday from 9am – 3pm at Trustpower Arena.