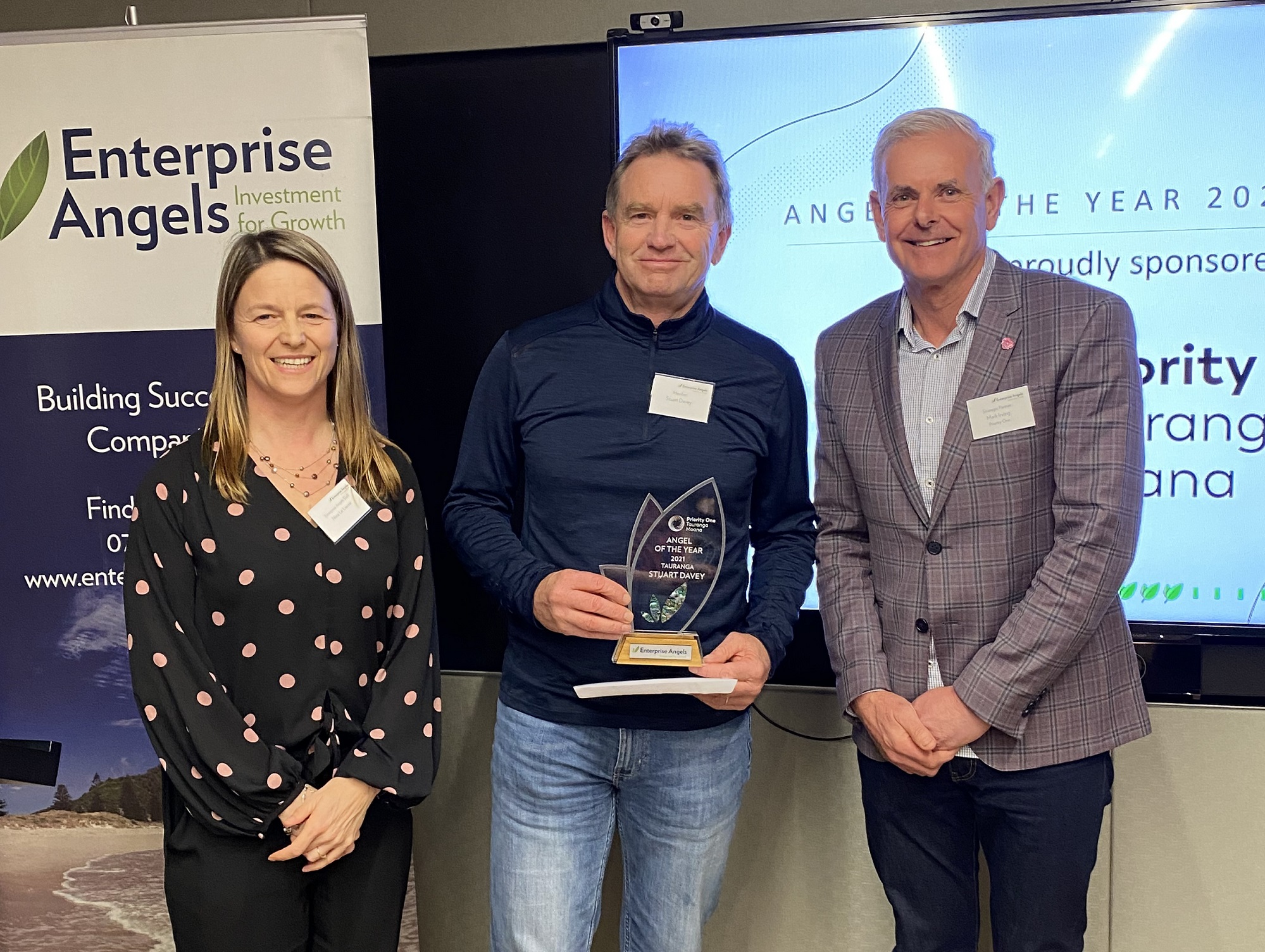 Recently Enterprise Angels celebrated its Annual Angel Awards; an opportunity to acknowledge members who have made a significant contribution to the network in terms of time, capital, and assistance during the 2020/21 financial year.
Angel investing is more than just investing capital in start-ups; it is also about rolling your sleeves up and getting involved with start-ups – including sharing networks, taking on board roles and mentoring. Enterprise Angels has over 200 Angel Investors and since launching in 2008 it has facilitated the investment of over $50m in close to 100 early stage and established New Zealand businesses.
In addition to taking on Investor Director roles with investee companies, Enterprise Angels runs a programme, whereby a member takes on the role of Investor Rep with one of their portfolio companies. This is an informal but important role which aims to maximise value for both the company and its investors. The Investor Rep puts their experience, skills and connections to work and is an additional close contact point between the company and Enterprise Angels.
The "Investor Rep/Director of the Year" award, sponsored by Cooney Lees Morgan, acknowledges the member who provided the greatest contribution to a portfolio company and its investors. This year the award was presented to Matt McHardy for the enthusiasm and diligence he has shown in his work as Investor Rep for Hot Lime Labs. Matt took on this role during the year when Enterprise Angels first invested in Hot Lime Labs.
Hot Lime Labs Chief Operating Officer, Tijs Robinson, said "Matt is a fantastic contact point for Hot Lime, playing a key role in the due diligence process of Hot Lime before becoming EA's investor rep. His genuine interest in the company, the tech and people is not only enjoyable, it means we have an engaged investor rep who asks insightful questions and always looks to leverage his own and the Enterprise Angels network to assist wherever possible."
This year Enterprise Angels established a new award to recognise engagement and support by a member who has joined during the last 12 months. Sponsored by James and Wells the "New Member of the Year" award was presented to Jenny Rudd who has really embraced what it means to be an Enterprise Angels member by getting fully involved since joining Enterprise Angels in late 2020. Before she was even properly onboarded, she was involved in early due diligence at the screening stage as well as leveraging her networks to provide introductions to entrepreneurs. Jenny is very enthusiastic and knowledgeable and has offered to help with due diligence in all of the companies that have pitched to Enterprise Angels members since she joined. She has maximized her membership and engaged fully with member education events and all pitch nights since joining.
The final award of the evening was "Angel of the Year" which is awarded to the Enterprise Angels member who has shown exceptional membership participation including committee involvement, due diligence participation, event participation, and investments made to name a few. A general all-rounder. This year Enterprise Angels recognised two stand-out members; one for each major chapter of Enterprise Angels.
Priority One sponsored the 2021 Angel of the Year for Tauranga. The very deserving recipient, Stuart Davey has been a long-standing member since the network was established in 2008. He is an Investor Rep for Evnex, a Christchurch based company with one of the top selling charging solutions in New Zealand that supports EV charging businesses across the world. Stuart has been a consistent investor in start-ups since joining and is our go-to expert with all farming innovations. He always provides insightful feedback and is a pleasure to work with. "Angel investing requires passion, patience and generosity of time. Stuart is still a strong start-up advocate and supporter in this space and we're thrilled to recognize his enduring support with this award." says Enterprise Angels CEO, Nina Le Lievre.
The 2021 Angel of the Year for Waikato, sponsored by Beca, was awarded to Steve Howse. Steve sits on the Enterprise Angels Screening Committee and the Purpose Capital Investment Committee, where he is a great contributor providing insightful/constructive comments. He is the Investor Rep for all three of the WNT Funds. In his role he keeps us abreast of the various WNT portfolio companies and any needs that Enterprise Angels may be able to help them with, predominantly upcoming capital raises. He has provided due diligence on numerous deals, advocates for Enterprise Angels with both founders and investors, usually always attending a pitch night with a guest or two. Steve often answers 'asks' that are circulated from portfolio companies and is generous with time providing feedback and ideas. "Steve is truly generous with his time and an enthusiastic member who is always keen to learn more and give back. I greatly value his suggestions and feedback on a range of topics from screening start-ups to how we can continuously improve our network" says Le Lievre.
Le Lievre noted that it is great to see so many members really get involved in the investment process over the last year amounting to a high level of competition and difficult decisions. She looks forward to seeing some healthy competition over the coming year with members vying to take out an award next year!
If you are starting up a company or looking to invest in early staged and values-based businesses get in touch. Visit https://www.enterpriseangels.co.nz/, come to one of our events or call 07 571 2520.
Submitted by Enterprise Angels