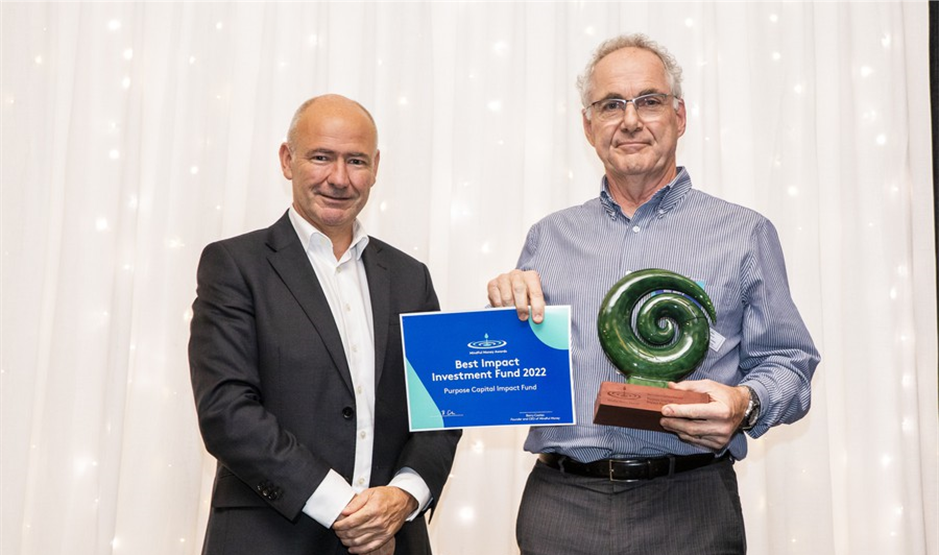 At the annual Mindful Money Awards in Auckland, the Purpose Capital Impact Fund won the 2022 Best Impact Investment Fund award. The judges commended Purpose Capital for their investments and Purpose Capital's commitment to achieving significant impact through them. "It was a great affirmation of our work to date and also of the growing awareness of impact investment" said Executive Director Bill Murphy.
The award comes on the heels of Purpose Capital completing several investments.
Bureta Build to Rent – Purpose Capital raised and led a $4m debt syndicate into this security of tenure, home star rated housing development in Tauranga. (Co-investor Bay Trust)
Lodestone Energy – Purpose Capital raised and led a $10m equity investment syndicate into New Zealand's largest Utility-Scale Solar project that will provide enough electricity for a city the size of Tauranga. Two of the five solar farms are located in the BOP (Co-Investor Trust Horizon)
Homes for Tamariki – Purpose Capital's $2m equity investment will contribute to providing stable homes throughout New Zealand for those children in most need under Oranga Tamariki's care.
"With two other opportunities approved for investment we've started looking ahead to establishing our second impact fund early 2023," said Murphy.
---
Purpose Capital Impact Fund
Purpose Capital are Impact Investors who drive positive environmental and social change in the Waikato, Bay of Plenty and greater New Zealand. New Zealand's largest private impact investment fund, Purpose Capital is founded on the principle that we can effect change through well-run commercial investments that deliver impact as well as financial return.
Through demonstrating the effectiveness of our approach, Purpose Capital aims to increase impact investments from asset and fund managers as well as private and philanthropic wealth. By leading investment opportunities, we provide confidence to other investors to invest alongside us in impactful companies and projects.
Fast Facts:
Philanthropy NZ Member Investors include K1W1, The Tindall Foundation, BayTrust, TECT, WEL Energy Trust, Trust Horizon.
Number of investments considered to date: 300+
Investment pipeline: $500M+
Fund size: $21.68M+
Invested to date: $8.2M
Co-investment under management: $14.8M
$ invested in the BOP: $15M
---
The Mindful Money Awards 2022
The Mindful Money Awards celebrate the role that ethical and impact investing are playing in making money a force for good. They reflect the growing movement to re-orient investment finance towards sustainability and well-being, providing solutions to the mounting crises of climate change, biodiversity loss and inequality. The Awards honour the funds and the individuals who are leading the movement to make responsible investing the new normal, and impact investing the progressive frontier.