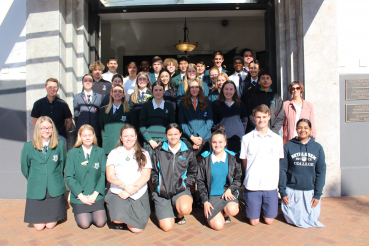 The 2020 Instep Young Leaders' Forum has been brought to a close with Priority One hosting the final Handover Breakfast, welcoming new leaders aboard for 2021 while farewelling those departing their schools for new adventures.
The students were introduced to a design-thinking activity facilitated by Karl Stevenson and Shane Stuart, who invited them to reflect on this year's Forum and consider what they liked about it, what they wished had happened, what they recommend for 2021, and the one thing the Forum should absolutely avoid doing at all costs. Some strong themes emerged; the noho marae held at Maungatapu to start the year was commonly mentioned as something to be repeated in 2021, and likewise, the opportunity to network and engage with a variety of guest presenters was highly valued. The kai on offer at each of the breakfast events was pretty popular too! Happily, one thing everyone agreed that should definitely not happen in 2021 was for the Forum to not go ahead.
Two broad groups of students had emerged to collaborate on projects over the year. The first group made up of students from Bethlehem, ACG, Papamoa, Te Wharekura o Mauao, Katikati, and Te Puke students worked on developing a cross-school mufti day to celebrate cultural diversity in our communities. While that didn't quite play out as envisaged, some valuable learning took place and Bethlehem College did, in the end, benefit from these collective efforts to hold their first culturally themed mufti day in Term 3.
The second group – made up of students from Tauranga Boys, Girls, Otumoetai, Mount Maunganui and Aquinas – tackled hunger head-on by launching a free-food-in-schools programme for students in need. The group managed to introduce this in various forms at each of their schools and the programme has been given a boost to continue for 2021 by winning financial support from Tauranga City Council's Community Development Team; a genuinely impactful achievement for Jarrod Ong and his committed team!
Our incoming young leaders had the chance to begin building connections with one another and hopefully have come away excited to throw themselves fully into the Forum in early 2021. We look forward to another noho early in the year!